Melt Melting Guide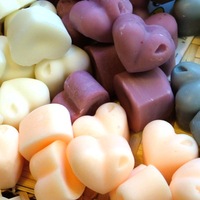 Soy Wax Melts are used in an oil burner instead of oil and water to release wonderful fragrances in your home or work place. Tarts and melts are solid wax and do not have a wick, and the best quality melts are made primarily of soy wax (rather than petrol based paraffin wax).
Melts can be used as they are without melting them as natural air fresheners - place one on a small piece of baking paper or aluminium foil in a clothes cupboard, clothes drawer, bathroom or even in your car (although in the car be aware that they can melt in summer as temperatures in a car can reach very high levels).
For those new to soy wax melts, we have listed below a few tips on burning them:
Place your oil burner in a safe, stable situation, away from drafts and anything flammable and also well out of the reach of children or pets.

Place the Soy Wax melts in the top of a dry oil burner - do not add water - if the melts are in the form of a clamshell pack, just push the bottom of one cell and break off a single melt cube (reseal the pack to retain the fragrance of the remaining melts).

Light a tea light candle in the base of the oil burner and allow the wax to melt - when melted a delightful aroma will be released into the room

Don't forget to extinguish the tea light candle when leaving the room - never leave it unattended or within reach of children or pets.

After extinguishing the flame the soy wax melt will cool and it will solidify again, you can either re-use the melt or gently tap the sides of the burner and most times the wax melts will pop out. If not place the oil burner in the freezer for a short time and it will easily release - save the solid wax and you can then easily experience a variety of fragrances as your mood changes.

Wax melts can also be used in an electric oil burner, although in our experience many electric oil burners do not heat the wax as well as a tealight, and thus may not release the fragrance as well.

For a more intense fragrant experience why not use a similarly scented Tea light.